Being introduced on 26 of October 2011 by Lamar S. Smith, the Stop Online Piracy Act (SOPA) had caused a massive outrage in and outside of the internet community. Focusing in protecting the copyrighted item from infringement and also to stop the distribution of counterfeit products (on which, a major concern is given to the distribution of counterfeit drugs), the bill had received a mixed reaction from various parties.
Lamar Smith
It had been opposed by the public, mainly internet users among university students (that depends heavily on online source) and also by avid downloaders of movies,dramas, games and etc, the bill is supported by industries such as Dolce and Gabbana, Adidas America, Eric Meola Studio Incorporated and McGraw Hill that rely heavily in their copyrighted products for profit generation.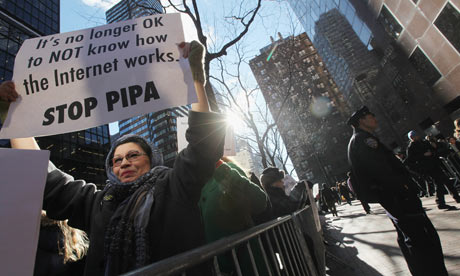 Protester protesting PIPA in New York ( PIPA is Protect IP Act, a sister act of SOPA
In protesting the bill, various sites on the internet had initiated a 24-hours strike on which, they had locked down their entire content. Among websites that were involved in last Wednesday's strike are Wikipedia, Craiglist, Fail Blog and also Reddit. Due to the tremendous opposition, Rep. Lamar Smith announced on 20th January that he's delaying the cloture vote on the Bill.
And for me, the top 5 reason why we can't have SOPA are:
No more YouTube Artist
Under the new act, covering a song is considered illegal and action will be taken to all Yuna, Justin Bieber and last but not least, Hafiz wannabe.
No more free movies
I'm fine with watching movies in the theatre, but, with SOPA, we'll end up paying money for crap like this ;
and of course, the "bling-bling" vampire
and the new generation will not be able to appreciate movies like this;
Congestion of Library
This place will be full, as this place is closed